Thank you for visiting the Anderson Police Department website. The City of Anderson is a small, rural city situated in beautiful northern California along the Interstate 5 corridor. Established in 1872, the City was incorporated in 1956. Anderson was named after Elias Anderson, who owned the largest land grant in the vicinity, and once flourished as a lumber town spurred by railroad activity. Today, with approximately 10,500 residents, the City of Anderson continues to thrive and has become a desirable place to live within Shasta County.
As the City of Anderson's 12th Chief of Police, I take great pride in serving our community and working with the talented officers and support personnel that make up our police department. I strongly support the officers of the Anderson Police Department and am honored to join them as they selflessly serve this wonderful community.
The Anderson Police Department will not cave to the special interest groups trying to destroy the honor of this great profession. We will continue to have a professional and proactive approach to policing and make every effort within the constitution, law, and our policies to keep this community safe.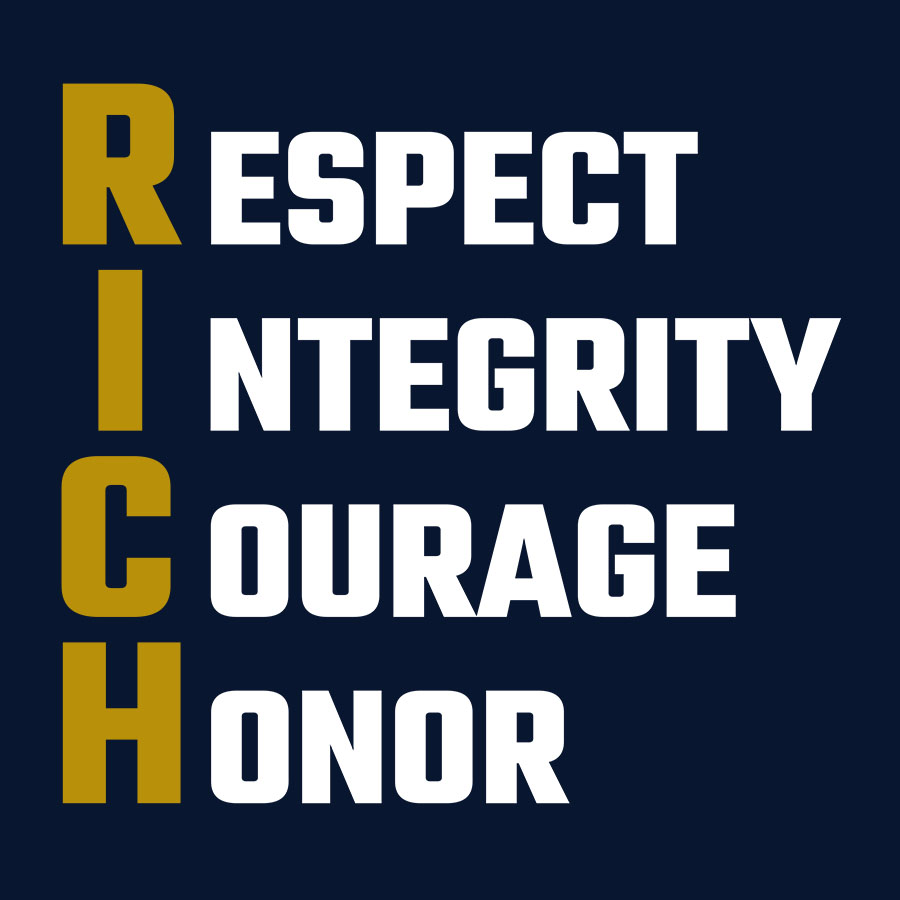 Respect: We must respect ourselves, our peers, those we serve, and the sanctity of the law and the institution of the Anderson Police Department. We will faithfully and, without bias, honor our obligations to the community we proudly serve.
Integrity: We believe integrity is character in action. We will always strive to be morally and ethically aware, resolute, and above reproach regardless of our duty status.
Courage: We recognize that "courage is not the absence of fear, but the mastery of it." We stand firm in the face of danger and accountability. We will confront all threats to the safety, security, and honor of our profession and our community with intelligence and vigor.
Honor: We are committed to upholding the honor and integrity of our profession by providing honest and faithful police service to all who may be in danger or distress.
Jon Poletski was born and raised in Eureka, CA. Right out of high school, Jon joined the United States Air Force (USAF), serving as a Fuel Systems Mechanic. After honorably discharging from the USAF, Jon returned to Eureka, where he worked in his family's business and became a plumber for a short time. Jon eventually decided to pursue a career in law enforcement and put himself through the College of the Redwoods Police Academy.
After graduating from the police academy, Jon was hired by the Eureka Police Department in February 2000. While working in Eureka, Jon held the positions of Evidence Technician and Narcotics Detective assigned to the Humboldt County Drug Task Force. In July 2005, Jon relocated and began working for the Redding Police Department. During his time with Redding, Jon worked in all divisions of the department; held numerous assignments to include Field Training Officer, Defensive Tactics Instructor, Peer Support Team Member, Neighborhood Police Unit Officer, Sex Crime Detective, and Major Crimes Detective; as well as promoting up through the ranks of Corporal, Sergeant, Lieutenant, and Captain. In August 2021, Jon left the Redding Police Department to assume the role of Interim Chief of Police of the Anderson Police Department, and shortly thereafter became the permanent Chief of Police in September 2021.
During his time working in law enforcement, Jon continued his higher education by attending College of the Redwoods and Shasta College where he obtained his Associate of Science in Administration of Justice and went on to earn his Bachelor of Science in Criminal Justice Management from Union Institute and University.
Jon has been married to his wife Angie for 26 years. They have three daughters. Jon's hobbies include hunting, fishing, and spending time with his family.